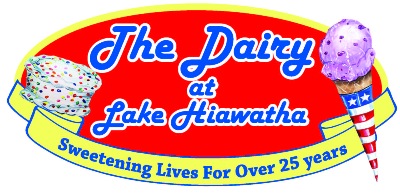 Due to the restrictions put in place for COVID-19, our seating area is currently closed. However, we are open normal business hours, providing Take Out Service and offering curbside pickup. You are still welcome to come inside to order! We are also offering the ability to call us to place your order (973-316-6686), pre-pay over the phone and we will have your order ready for you when you arrive. If you prefer, we can bring your order out to you. We encourage you to give us a call!

Our current hours are as follows:

Monday 11am - 8:30pm
Tuesday 11am - 8:30pm
Wednesday 11am - 8:30pm
Thursday 11am - 8:30pm
Friday 11am - 9:00pm
Saturday 11am - 9:00pm
Sunday 11am - 8:30pm
If you're looking for a special ice cream cake for any occasion, please give us a call or email us at thedairy@optonline.net. We will be happy to work with you for your special occasion. We have built up our pre-made inventory so we hope we'll be ready for those last minute walk-ins.

Our contact information is listed below;

We want to thank our customers for their continued support and patronage during this most unusual time.

Thank you for visiting our website and we look forward to serving you!